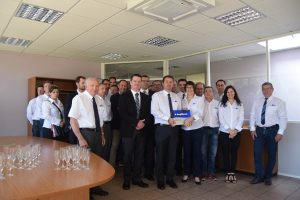 Joseph Martin reçoit le prix SOY Awards (Supplier of Year 2016) par l'équipementier Borg Warner
Le 17 Mai dernier, l'entreprise Joseph Martin s'est vu remettre un prix prestigieux par un des plus grands équipementiers automobile, Borg Warner, le prix « SOY 2016 » (Supplier of the Year).
Cette distinction récompense les efforts de l'entreprise pour son haut niveau de qualité atteint, mais également sa performance en matière de délai et de coût.
En présence de la direction Américaine et Européenne de Borg Warner, Laurent MARTIN, directeur général de l'entreprise, a remercié l'entreprise Borg Warner en évoquant une relation forte de longue date et également tous les salariés de l'entreprise Joseph Martin.
« Nous sommes ravis d'être reconnus par un des équipementiers les plus importants au monde, nous entretenons un partenariat fort et solide avec Borg Warner. Cette récompense est le fruit du travail de chacun qui couronne nos efforts quotidiens et notre capacité à nous remettre en cause pour nous adapter aux exigences des clients».
Borg Warner, en chiffre, c'est 9 Milliards de dollars de CA, 27000 salariés, 62 implantations dans 17 pays.
Parmi ses 2800 fournisseurs en 2016, Borg Warner a remis seulement 9 Awards, dont 1 à l'entreprise Joseph MARTIN SA.